Climbers free-soloing into the Double Chimney's northern slot and descending the Open-'V' on
Aug. 20
.
Over a dozen climbers were soloing during the weekend.
Teton Interagency Dispatch (Emergency Calls):
307-739-3301 or 911
Keep
307-739-3301
in your phone in case of a climbing emergency.
You can send a text-message to 911 in Teton County.
~~~~~~~~~~~~~~~~~
Forecasts & Observations
Weather:
307-739-3611 or 1-800-211-1448
The NWS has a free online weather course.
~~~~~~~~~~~~~~~~~
August 27
: A
Magnitude 4.8 earthquake rattled Jackson Hole
. It was centered near Bondurant, WY and happened at 20:47:47.20 UTC, or 2:47 PM.
Map of area
. It's unknown if any serious mountain rockfall resulted from the quake. It shook hard for a minute or two depending upon your location. It lasted about 10 minutes. It was closer to the
Wind River Range
than the Tetons. Over 450 people reported feeling the quake to the USGS. Some of the reports came from people who were 100 miles from the epicenter - Idaho Falls & Yellowstone.
The big
ORANGE
circle is Saturday's earthquake.
The smaller circles are earthquakes in the last 30 days.
Highway closures are in effect at the north end of GTNP by Leeks Marina due to
wildfires
. Leeks is open. Access to the
Lupine Meadows Trailhead
is not affected.
Video of fire crossing the highway
. Call the park at
307-739-3300
for updated information on road closures, etc.
GTNP News Releases
.
The Lower Saddle will see temperatures in the mid-60's next week as the valley floor hits the low 80's. That's a great way to roll into September. Of course, it's bad for wildfires. Conditions were outstanding
last weekend
on all the popular routes up the Grand Teton.
At some point after Labor Day, the Jenny Lake Ranger Station will close, the Climbers' Ranch will close, the Lower Saddle's weather station will be removed, and the NWS's Recreational Forecast for GTNP will no longer be issued. The climbing concessionaires usually pack up their high-camp huts by the middle of September. Conditions can bounce from one extreme to another during September & October.
Fire crossing GTNP's highway to Yellowstone

If the skies are clear on September 1st, it will be a great time to see the Milky Way in GTNP.
Sept. 1 is the New Moon (dark). The
Labor Day holiday
is Sept. 5th.


~~~~~~~~~~~~~~~~~~
August 25-28 will be fee free days in all National Parks during the NPS's 100-year birthday party.
Yellowstone National Park, our first national park, was established on March 1, 1872.
The National Park Service wasn't created until August 25, 1916
Twitter:
@natlparkservice
Facebook:
www.facebook.com/nationalparkservice
Instagram:
@nationalparkservice
Flickr:
www.flickr.com/nationalparkservice
Photo resource:
www.nps.gov/media/multimedia-search.htm
Centennial Campaigns:
www.findyourpark.com
National Park Service
Just a random update from YNP:
A park concession employee died at
Yellowstone National Park
early Wednesday morning. Estefania Liset Mosquera Alcivar, 21, of
Quito, Ecuador
, was socializing with a small group of co-workers near the rim of the
Grand Canyon of the Yellowstone River
when she fell over the edge at about
3:15 a.m
.
YNP News Release
Estefania Liset Mosquera Alcivar
It says something about America's National Parks on this 100th birthday of the NPS. Look closely and you'll almost never see a family from, say,
South Central Los Angeles
visiting Yellowstone or Grand Teton National Parks. Despite extremely high unemployment, you'll almost never see a worker from any low-income
inner-city American neighborhood
working in a gateway town or inside Grand Teton and Yellowstone National Parks.
~~~~~~~~~~~~~~~~~~


New Grand Traverse Speed Record
On August 16th, Canadian runner & climber
Nick Elson, 32, broke the 16-year-old speed record
for the
Grand Traverse
by nailing a time of 6:30:49. The old record held by Rolando Garibotti was 6:49:00. He climbed Teewinot; Mount Owen; the Grand Teton; Middle Teton; South Teton; Cloudveil Dome; Nez Perce and various sub-peaks in one continuous loop. He free-soloed the route. It looks like he didn't use the rap to the Upper Saddle. Check out the
pictures on Instagram
.
You'll notice that he's wearing different clothing in his various Instagram images and in one photo it looks like he's wearing a harness. That may be because these were taken on different days while Nick was scoping out the route. We would like to see some evidence of his time splits. It looks like he has a GPS watch. We would also like to know if any assistance was provided during the run.
Eric Carter
took some of the photos. Eric ran a round-trip up the Grand Teton and back to Lupine Meadows in under 3.5 hours on the day before Nick made his record Grand Traverse run.
Here's Nick at the Double Chimney
"
I set off just after 6am and reached the summit of Teewinot in 1:23. I reached the summit of the Grand in 3:18, soloing carefully on the Italian Cracks. It was great to pass Mark @smileysproject here guiding the traverse as he had also helped me out with some great local knowledge.
I'm a fairly cautious person and I like to think that I kept the risk at a reasonable level, but as I jogged across the "catwalk" while eating a gel I did manage to elicit a plea of "please don't die" from a member of one of the nearby roped teams.
From the lower saddle, I was able to make good time. I think that having rambled around in the mountains since childhood has made me pretty comfortable on the type of 3rd and 4th class terrain that is prevalent on the traverse.
I arrived at the summit of Middle in 4:01 and Nez Perce in 5:31. I made my only routefinding mistake descending, but before long was kicking off some impressive rock slides going down to the meadows. When I finally hit the smooth trail, I tripped and fell flat on my face. From there I ran down the trail and mostly avoided hip-checking any hikers. I finished in a time of 6:30:49.
" Nick Elson
In other GT news
: From August 1 to 3,
70-year-old Lee Sheftel
of Carbondale, Colorado, completed the Grand Traverse with partner Greg Collins of Victor, Idaho. In 2014, Collins also guided the
youngest person to ski the Grand Teton
, 15-year-old Sasha Johnstone, and he guided the
youngest person to climb the Exum Ridge
, 6-year-old Beo Charette. Collins was also on the
first "ski descent" of the GT's North Face
. We wouldn't call it a ski descent but whatever.
Alpinist Magazine covered both Grand Traverse events
.
A few trip reports for April through October
The above trip is marked-up with notes.
~~~~~~~~~~~~~~~~~~
NWS FORECASTS FOR SELECT LOCATIONS: August 27th
             SAT|   SAT|   SUN|   SUN|   MON|
                | NIGHT|      | NIGHT|      |
---------------------------------------------------------------------
MOOSE                 74|    39|    78|    40|    81| TEMP(F)
6460 FT              SW 10| SW  6| SW  9|  W  5|  S  5| WIND(MPH)
                        0%|    0%|    0%|    0%|    0%| PRECIP(%)
---------------------------------------------------------------------
LOWER SADDLE          52|    38|    58|    38|    62| TEMP(F)
11600 FT             SW 16| SW 14|  W 15|  W 14| SW 12| WIND(MPH)
                        0%|    0%|    0%|    0%|   10%| PRECIP(%)
---------------------------------------------------------------------


GRAND TETON SUMMIT

    44|    

30

|    50|    

30

|    54| TEMP(F)
13775 FT             SW 16| SW 14|  W 14|  W 15| SW 12| WIND(MPH)
                        0%|    0%|    0%|    0%|   10%| PRECIP(%)
---------------------------------------------------------------------
THIS PRODUCT IS ISSUED AROUND 3 AM DAILY. FOR THE MOST UP-TO-DATE
INFORMATION CALL 

1-800-211-1448

 OR VISIT WWW.WEATHER.GOV/RIVERTON
The M-F forecast was the accurate forecast for Saturday August 27.
The NWS's forecast had temps that were about 6° too high.
Mountain-Forecast.com's Summit Forecast
for August 27th
The night sky on Sept 1st in GTNP
International Space Station's Current Position:
Link 1
-
Link 2
What all the information means for the ISS.
Temps at the Lower Saddle
- last 7 days.
GTPW4
's recent rainfall totals
at the valley floor by Moose.
Rain + Low Temps = ICE.
Here's a different Weather Station
GTGW4
that's just east of the Grand Teton at the Valley Floor. Keep in mind that the mountains can get more
precipitation
than the valley floor and that rain can be highly localized (over the Grand but not over a weather station).
MesoWest Stations
and
Map of GTNP stations
JH Airport Weather Station
Lower Saddle Wind Speeds
, Gusts, and Direction (coming from)
48 hour Lower Saddle Temperature Graph
Lower Saddle Weather Station Data
A look back at the Lower Saddle's Wind
Speeds
and
Gusts
The best forecast is the one issued on the day you are climbing; however, it's been our experience that a forecast for the Teton's during periods of moderate instability is extremely difficult for the National Weather Service (NWS) to nail down with any certainty. Storms can develop quickly right at the base of the Tetons and they can pass by just as quickly without a drop of rain or lightning. Either way, you don't want to be on the summit block if a real threat is developing. We will usually take our chances with a small and fast moving storm cell in an otherwise mostly blue sky; however, a bolt of lightning coming out of the sky in our direction is always a possibility. It's part of the inherent risk of climbing mountains.
The National Weather Service out of Riverton, WY will usually
forecast
a temperature difference between the
Lower Saddle
& summit of 8°F no matter the time of day or the weather. Their
low
temperature difference between the
valley floor
& the summit tends to be between 9°F & 13°F in their forecast. All forecast temperatures are temperatures of the air in the shade. It can feel much hotter in direct sunlight; however, the wind chill may negate any feelings of additional warmth. The wind speeds at the saddle are almost always much stronger than those in the forecast.
Today's National Weather Forecast
This graphic should only be used to identify large weather patterns.
Small Rain / T'Storms may not be represented and an area expecting storms may be dry.
Please check the
NWS's Hourly Forecast for the Lower Saddle
to get a feel for what time the weather may take a turn for the worse and how bad it might actually be (look at the rainfall totals & lightning probability).
Low pressure systems
are usually associated with unstable weather but occasionally a
high pressure system
is associated with unstable weather in the Tetons. The forecast isn't always correct so once you start climbing you should be ready to alter your climbing plans if the field observations demand it.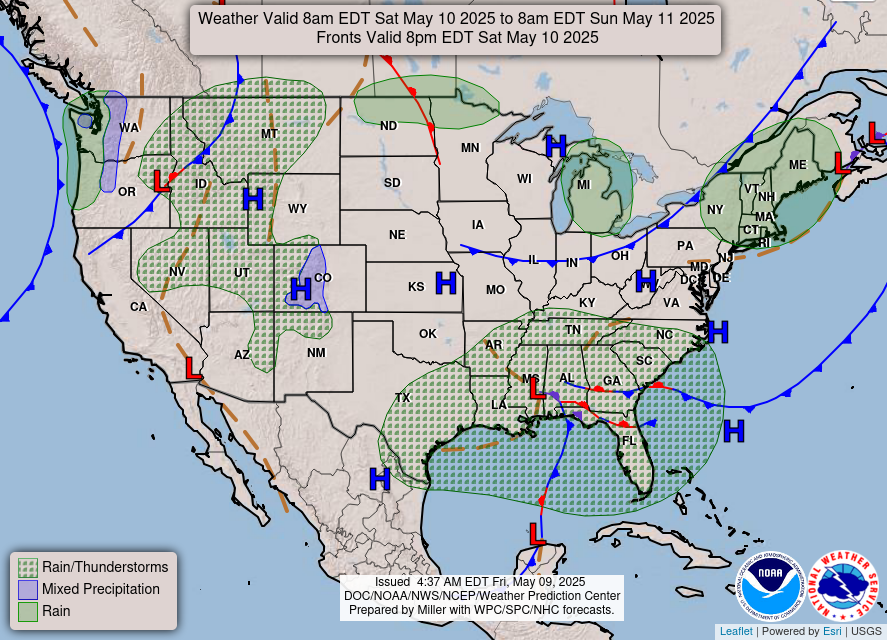 Tomorrow's NWS National Forecast
Our local
MountainWeather.com
website feeds the
National Weather Service forecast
to its website during the
weekends
when most people would like a better forecast than that given by the NWS. Despite that drawback, the website has a great collection of weather information.
Forecast for the Town of Jackson
~~~~~~~~~~~~~~~
If an image is dark, the webcam may be having issues or it may be nighttime.
Sometimes the live stream is working but the still image is not being captured.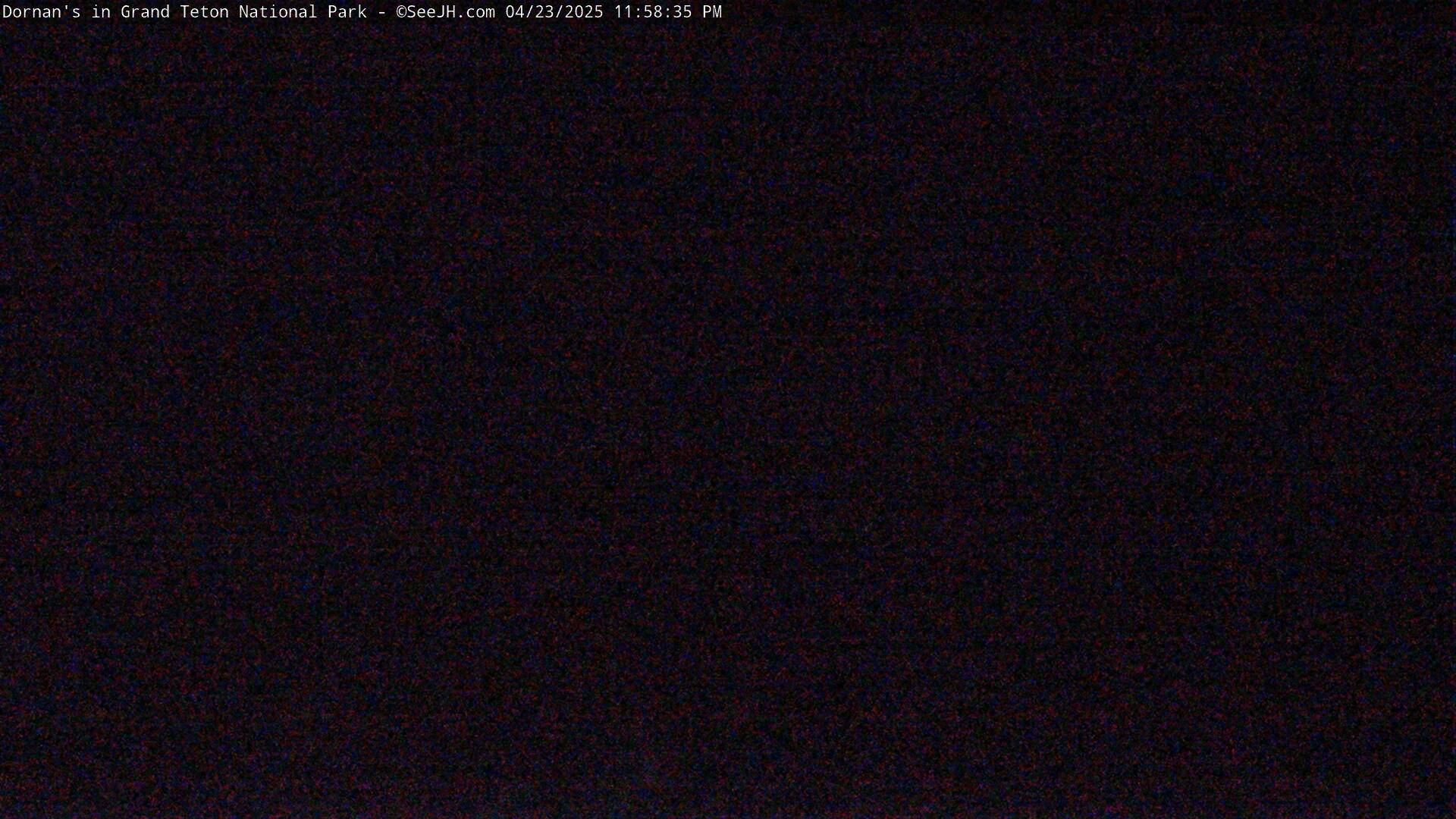 ~~~~~~~~~~~~~~~
The Grand Teton's Owen-Spalding Climbing Route
(download full size)
Owen-Spalding Climbing Route (5.4)
Downclimbing the Exum Route is not recommended.
The Enclosure features a very small Native American rock formation at its summit. Turn around and go bag the Enclosure (the western spur off the Grand Teton's Upper Saddle) if conditions are really poor on the Grand Teton. The Enclosure has nice views and it's more of a scramble than a climb. You can reach it from about 100 feet below the Upper Saddle by heading to the N-NW from the top of the Central Rib.
Variations between the Lower and Upper Saddle
Looking at the bench area between the Lower & Upper Saddles.
The view is toward the north-northeast.
The Central Rib. Looking southeast.
The bench area is just a scramble. We prefer the Briggs' Slab variation to reach the Central Rib's bench but sometimes the Chockstone Chimney is your best option. Once on the bench, some climbers will use a higher (more eastern) route to reach the Black Rock Chimney (or the Upper Western Rib) instead of the more western route which is closer to the main drainage to the west. Conditions often determine which scramble is easier. A higher scramble is often safer due to the rockfall hazards from other climbers.
The midway exit from the Needle's Chockstone Chimney during the descent.
View of the Central Rib from the Upper Western Rib
The access point to the BRC is part of a slight western extension of the Central Rib and it's in a NE corner between the slab & the extension.
Climbers' Ranch
can use the old Burned Wagon Gulch trail.
The BWG trail is usually overgrown because it gets so little traffic. If dew is on the grass, you'll get soaked. It's not often maintained so you may need to climb over deadfall. The BWG trail meets the Lupine Meadows trail at the first junction to the Bradley-Taggart Lakes trail. The BWG trail is unmarked. Ticks are more common on the BWG trail. The views are better than those from Lupine. We like it because fewer people use it.
Download GeoPDF
Google Earth
Full-size link
The climbers trail from Lupine Meadows is mostly well
defined all the way to the Lower Saddle.
The Meadows' Headwall.
Death can happen far away from the summit block. In 2013, Gary Miller and Edward Tom slipped during separate incidents while on the Meadows' headwall in Garnet Canyon. Both lost their lives. Mr. Miller was finishing a guided climb as he stood unprotected on a slippery slope above a snow fissure undercut by freezing water. Mr. Tom was searching for a camping spot near the edge of a cliff after a heavy rainstorm.
The Headwall of the Grand Teton's Lower Saddle.
There are many boulder fields but only two boulder fields where the trail
disappears and makes a serious deviation from your current direction of travel.
Camping in Garnet Canyon
A fee is required for a camping permit.
Those bound for Garnet Canyon
during the summer
must go
to the Jenny Lake Ranger Station to get their camping permits.
It is worth taking extra time and acclimating to the elevation & the effort if you're not used to such activities. If you want to camp overnight, consider selecting a camping location that's suited to your fitness level. Carrying a heavy pack all the way to the Lower Saddle is a burden if you're not in excellent shape. You might be better off by camping at a lower elevation and starting your climb an hour earlier the following day. The National Park Service is now charging a
hefty fee for camping in GTNP
so that may play a part in your camping decision. During the summer, climbers and hikers can obtain backcountry camping permits at the Jenny Lake Climbing Rangers' cabin at South Jenny Lake. Reservations may be made online for a higher price early in the year. The overnight stays at the Exum Mountain Guides' hut at the Lower Saddle can reach 1,300 or more during the summer. The public camping sites see many more climbers. During peak years, overnight backcountry stays in GTNP reach 30,000.
All overnight campers at the Lower Saddle & Caves Camping Zones are required to take "
Rest Stop
" bags to pack out their human waste. All visitors to the Lower Saddle are asked pee on the western side of the Lower Saddle while keeping in mind that there are a few campsites on the western side so avoid peeing by them. Campers are also encouraged to use "Rest Stop" bags when staying elsewhere in Garnet Canyon. Those at
Corbet's High Camp
must also use RS bags.
As of 2014, approved
bear-resistant food storage canisters
are required at the Morainal Camping Zone in the North Fork of Garnet Canyon. Canisters can be checked out for free at the Jenny Lake Ranger Station with the purchase of a camping permit. You won't like carrying them but they will keep marmots and bears out of your stuff. Feeding mammals just encourages them to rip open your gear. It's unlikely you'll see a bear at the Moraines but bears have crossed the Lower Saddle and they make their way through Garnet Canyon every so often. Bear-resistant food storage
boxes
are available at the following camping zones: Platforms(1), Meadows(3), Caves(1), and Lower Saddle(1). GTNP should provide food storage boxes at the Moraines especially given the high fees they charge.
Bears usually leave you alone if you leave them alone. Bears protecting a food source or cubs tend to be the biggest threat to humans. Bears that are surprised by humans may take defensive actions, too. Your chances of getting injured on the Grand Teton are greater than your chances of getting injured by a bear but never underestimate the threat posed by either one.
Yellowstone Bear Safety Tips
A 27-year old man from Star Valley, WY reported that he discharged a handgun during an encounter with three
grizzly bears
near the
Jackson Lake Dam
on August 25, 2015 (NPS
News Release
). Apparently, he was trying to scare the bears, not aiming for a bear. While such reactions are legal just a few miles to the east in the
Teton National Forest
, firing a
gun in GTNP
is a no-no until
hunting season
.
Grizzly Bears are considered a "threatened" species under the
Endangered Species Act
and killing them is, of course,
illegal
unless you work for the government which in 2015
killed at least 24 grizzly bears
in the
Greater Yellowstone Ecosystem
. In 2014, the
Interagency Yellowstone Grizzly Bear Study Team
voted unanimously to strip the grizzly of Endangered Species Act protections. The
US Fish and Wildlife Service
also proposed delisting. No bear deterrent is 100% effective, but bear spray is usually better than a firearm. Hopefully, the wind is in your favor and you're not in a downpour.
Climbing & Backcountry Information
Backcountry camping permits while climbing or mountaineering must
be obtained at the
Jenny Lake Ranger Station
during the summer.
$35 for
advanced reservations
if made between the
first Wednesday in January and May 15th.
$25 for walk-in permits.
Garnet Canyon Regulations
Wilderness Climbing Ethics
Commercial Mountain Guides
Backcountry Reservations
Backcountry Camping Information
Backcountry Camping Brochure
Backcountry Camping Zone Maps
Bear Safety
Jenny Lake Climbing Rangers
Search and Rescue
Accidents & Mountain Rescue
Search & Rescue Operations
Jenny Lake Ranger History
Acceptable Risk
Conditions Information
Climbing Route Conditions
Mountain Pass Conditions
Canyon & Trail Conditions
Maps for trails within Grand Teton National Park
~ USGS 7.5 min map links are further below ~
Granite Canyon Trailhead
Death Canyon Trailhead
Taggart Lake Trailhead
Lupine Meadows Trailhead
Jenny Lake Trailhead
String Lake Trailhead
Leigh Lake Trailhead
Hermitage Point Trailhead
Two Ocean Lake Trailhead
GTNP MAP
TetonHikingTrails.com
These are now available for your mobile device.
Blackrock Ranger District
(formerly known as Buffalo Ranger District)
Greys River, Big Piney, Kemmerer-North Ranger Districts
Greys River, Big Piney, Kemmerer-South Ranger Districts
Jackson Ranger District
Pinedale Ranger District
2014
Visitor Centers
Free wireless internet access is available for the public at the Craig
Thomas Discovery and Visitor Center in Moose.
Dornan's also provides free internet access.
Jenny Lake Ranger Station
Colter Bay Visitor Center
Flagg Ranch Information Station
Jenny Lake Visitor Center
Craig Thomas Discovery & Visitor Center 307-739-3399
Laurance S. Rockefeller Preserve Center
GTNP Lost & Found
GTNP Social Media Sites
Twitter
Facebook
Instagram
YouTube
The 2016 entrance fee-free days
January 18
– Martin Luther King, Jr. Day
April 16 through 24
– National Park Week
August 25 through 28
– National Park Service Birthday
September 24
– National Public Lands Day
November 11
– Veterans Day
The Guide Books
A Climber's Guide to the Teton Range
'The Bible'
It may be the bible; however, its presentation is dated.
Teton Classics: 50 Selected Climbs in Grand Teton National Park
Teton Rock Climbs: A Select Guide to the Teton Range's Best Alpine Routes
Select Peaks of Greater Yellowstone
All books are available at the
Teton County Library
and
TCLIB.org
Some older and fascinating guide books are also available.
Find books at your library
.
Local Climbing Shops
Teton Mountaineering
- also rents gear (
Google
)
Moosely Mountaineering
- also rents gear (
Google
)
Skinny Skis
- mostly backcountry gear - also rents gear via
MM
(
Google
)
High Country Outfitters
- backcountry gear - no climbing hardware (
Google
)
Teton Backcountry Rentals
Yöstmark Mountain Equipment
(Driggs, Idaho)
Local Climbing Guides
Exum Mountain Guides
Jackson Hole Mountain Guides
Wilderness Adventures (Programs for Teens)
Telephone Numbers
FYI: GTNP has a bad habit of changing contact numbers.
Climbing Information: 307-739-3604
Camping Information: 307-739-3603
Visitor Information: 307-739-3300
Road Construction Hotline 307-739-3614
Backcountry & River Information 307-739-3602
GTNP Lost & Found
307.733.3350
GTNP Emergency Dispatch 307.739.3301, or 911
Jenny Lake Ranger Station
307.739.3343 8-5 pm
...in the winter call 307.739.3309
Moose Visitor Center
307.739.3399
Winter Hotline 307.739.3399
Public Affairs Office 307.739.3393
Moosely Mountaineering (in GTNP)
307.739.1801
Dornan's
in GTNP at Moose (307) 733-2415
Climber's Ranch (in GTNP)
307.733.7271
Weather NWS
1-800-211-1448 or GT 307.739.3611
Emergency Care
Please consider adding a
First-Aid App
to your smart phone
.
Grand Teton Medical Clinic
(summer only 9-5) GTNP at
Jackson Lake Lodge
St John's Medical Center (SJMC)
24/7 ER
625 E. Broadway
SJMC Family Health & Urgent Care Clinic
Smith's Plaza
1415 S. Hwy 89
SJMC Teton Village Clinic
(winter only)
near Bridger Gondola
Emerg+A+Care
After hours call 307-733-8002 for 24/7 service.
455 W. Broadway Jackson, Wyoming
(next to Sports Authority).
Dr. Hayse
often works late & w/o appointment.
307-733-6700
269 W Broadway
Park Rangers are obsessed with harassing hitchhikers.
Hitchhiking is legal in Wyoming & GTNP.
The Federal Code
§ 4.31 Hitchhiking
"Hitchhiking or soliciting transportation is prohibited except
in designated areas and under conditions established by the superintendent."
Hitchhiking is legal in GTNP according to the
Superintendent's Compendium 2015
except under the following circumstances:
• Within two tenths of a mile (0.2mi) of an Entrance Station.
• Within 200 feet of a park service office building or visitor center.
• While holding or having a sign that is larger than 2'x2' in size.
•

The hitchhiker must stay off the surface of the paved roadway,
though a hitchhiker may stand on pavement in a paved pullout.
• Where vehicles may not safely pull off of the main traffic lane into a pullout or
safely onto the shoulder to allow for the passengers to be received safely.
• During the hours of darkness, unless the hitchhiker is
wearing bright (preferable reflectively enhanced) clothing.
• When hitchhiking behavior is deemed unsafe or a nuisance
by a commissioned Law Enforcement Ranger.
See this GTNP webpage for more info on Laws and Policies
Speaking of law enforcement, automated license plate recognition systems are used by the federal government and local law enforcement in Teton County. The entire state of Wyoming is a speed trap: 'pull over and fish' is our 'stop & frisk'. Jackson Hole has more law enforcement officers per mile of highway than most places you will visit.
Biking
The pathways are only open to bikes between 1/2 hour before sunrise & 1/2 hour after sunset.
2015-'16 Winter Closures
Grand Teton National Park Closure Map
(PDF)
Jackson Hole Conservation Alliance's
Closure Maps
.
Jackson Ranger District BTNF
Closures
&
Maps
.
Caribou-Targhee NF
Maps
&
CTNF Trail Map
The Climbers' Ranch
closed Sept. 12.
Moosely Mountaineering
closed Sept. 27.
The Lower Saddle's Weather Station
was removed Sept. 22.
The
Recreational Forecast for GTNP
is off-line for the winter.
The
Jenny Lake Ranger Station
closed on September 6.
The
Craig Thomas Discovery & Visitor Center
closed on November 1.
(
Opened March 4th
- AKA: Moose Visitor Center)
Avalanche Links
National Avalanche Center's Encyclopedia
Avalanche.org
Utah Avalanche Center UT
Colorado Avalanche Information Center CO
Alaska Avalanche Information Center AK
Wyoming State Trails Avalanche Hazard Maps
Powder Mag: The Safe Zone
Know Before You Go
TGR Backcountry Travel Guide
Snow Data
Graphs of Jackson Hole Snowfall last 24 hrs & 7-Day
(-
24 Hour Data
-)
JH Raw Data Directory
JH Wind Graphs
JH Individual Stations
MesoWest Weather Observation Stations
Moose, WY HPRCC Temp & Precip Data
Snow Forecast -
WPC Probabilistic Winter Precipitation Guidance
JHMR Snow Report
(
JHMR Rendezvous Bowl Detail
/
Graph 7-Day
)
Snow King Snow Report
Targhee Snow Report
Regional Snow Analyses: Central Rockies
Wyoming SNOTEL Sites
What Backcountry Users should know about SNOTELS
(PDF)
Idaho USDA NRCS Winter Recreation Information
USDA NRCS Snow Water Equivalent Data
(PDF's)
Current Weather Observations around Jackson Hole
Rain to Snow conversion
Skiing Links
JH Nordic
GTNP XCSKI
(&
PDF
)
Jackson Hole Ski Club
Jackson Hole Mountain Resort
Snow King Mountain
Grand Targhee
TetonAT.com
Skiing The Backcountry.com
Jackson Hole Ski Atlas
Select Peaks - "The Bibles of Teton Skiing"
Teton Gravity Research
Teton County Parks & Rec Classic & Skate Skiing Services
Friends of Pathways Maps (JH)
Teton County Idaho Trails & Pathways Maps
Choice Lines
Teton County Search & Rescue
Jackson Hole Mountain Guides Skiing
Exum Mountain Guides Skiing
Teton Backcountry Guides
Other Stuff
Weather info is further below.
Tristan's Teton Aerial Photos
Jack's Teton Aerial Photos
GTNP Laws & Policies
Grand Teton Summit Registers
Discover Grand Teton
Recreation.gov
BTNF Twitter Feed
Bridger-Teton National Forest
BTNF Winter Travel Map Jackson and Blackrock
Caribou-Targhee National Forest Maps
Caribou-Targhee National Forest
Idaho Alpine Club Maps
Jedediah Smith Wilderness
Yellowstone National Park
Old Faithful Webcam
- Live Streaming
YellowstoneGate News
Jackson Hole News and Guide
Grand Teton News Releases
Not all news releases are released online
and climbing related NR's are often
misleading.
Nice picture of Exum Ridge
Best of the Tetons
- Outstanding Photo Blog
TetonPlants.org
- nice site about plants in the Tetons.
Firearms
in Grand Teton National Park.
Showers may be available at the
Climbers' Ranch.
Public showers and laundromat facilities are available
at the
Colter Bay Village
and the
Signal Mountain Campground
.
In Jackson, showers are available at the
Rec. Center
.
The
Missing Sock Laundromat
is located in Smith's Plaza off Hwy 89.
There's a GTNP US Post Office at Moose, WY 83012.
Mammals
brochure for Grand Teton National Park. And
Wiki
Admission Free Days in the National Parks
FOIA - frequently requested NPS documents
NPS News
Bear Safety
Wyoming Webcam Index
Earthquakes
USGS Recent Earthquake Map for WY.
-
USA Map
Snow King Seismograph
(
Or Try Here
)
Teton Pass Seismograph
(
Or Try Here
)
Seismograph Stations
UofU Station List
USGS's 'Did You Feel It?'
New
Report a Quake
page
Shake Maps
Trip Reports
Mark P Thomas'

Teton Grand Slam & Lower Exum TR
"
Light & Fast on the Grand Teton
" is a
nice free-soloing blog post from TetonAT.com.
SummitPost.org
Owen-Spalding via Catwalk
SummitPost.org
Owen-Spalding via Owen Chimney
MountainProject.com
Upper Exum
SummitPost.org
Upper Exum
14ers.com
Upper Exum Route
Greta Jensen's 2012 Grand Adventure
Greta Jensen finally made it to the summit at
the age of 7 in 2012 but it took three tries.
She soloed the ascent.
Grand Teton Links & Stats
PeakBagger.com
GTNP Peaks
RockClimbing.com
Grand Traverse
Pataclimb .com
Outside Mag
2012 Grand Traverse
Alpinist Magazine (#33)
profiles The Grand Teton
It only took me four years to summit the Grand Teton
Google
Upper Exum
Google
Owen-Spalding
Upper Exum Soloing Video
GTNP's e-climb of the Grand Teton
The Picnic. The Grand Teton Triathlon
ClimbingWyoming.com
~~~~~~~~~~~~~~~~~~~~~~~~~~
Fastest Known Round-Trip Times on the Grand Teton
~ FKT for Men ~
Andy Anderson
, 2h53m02s, August 22, 2012
Kilian Jornet
, 2h54m01s, August 12, 2012
Bryce Thatcher
, 3h06m, August 26, 1983
~ FKT for Women ~
Climbing Resources
Alpinist Magazine Facebook
Alpinist Magazine
American Alpine Institute
Climbing.com
Rock & Ice Magazine
Gripped
Rockclimbing.com
Mountain Project
SummitPost.org
SuperTopo
CruxCrush
Chockstone.org
8a.nu
Android App for Knots
Animated Knots
Adventure Journal
Outside Online - Climbing
ClimbingWyoming.com
2016 23rd Annual International Climbers Festival
(on July 13th-16th, 2016 in lander Wyoming)
Central Wyoming Climbing Alliance
....more later
BLOGS / PODCASTS
EveningSends
DirtbagDiaries
ForTheLoveofClimbing
Enormocast
SplitterChoss
ClimbingNarc
~~~~~~~~~~~~~~~~~~~~~~~~~~
The Sky
solar noon
- 13:28 on June 30, 2015.
Meteor Showers for 2016
January 3-4, 2016 Quadrantids
April 21-22, 2016 Lyrids
May 5-6, 2016 Eta Aquarids
July 28-29, 2016 Delta Aquarids
August 11-12, 2016 Perseids
October 7, 2016 Draconids
October 20-21, 2016 Orionids
November 4-5, 2016 South Taurids
November 11-12, 2016 North Taurids
November 16-17, 2016 Leonids
December 13-14, 2016 Geminids
Jackson Hole Airport (JAC) Control Tower
: 118.075
Listen Live JAC
JAC Ground
: 124.550
JAC
CTAF
: 118.075
JAC
UNICOM
: 122.95
Driggs Airport
- western side of Tetons - has no tower.
CTAF/UNICOM: 122.7

Marine Distress Channel: 156.8
Aviation Distress Channel: 121.5
International Distress EPIRB: 406 MHz
Mutual Aid: 154.875
Teton County Search & Rescue
155.22, Tx/Rx Tone 100.0
The agencies below use repeaters & Rx/Tx tone codes
Teton Dispatch GTNP Repeater
Rx: 171.675, Tx: 172.425
171.675 is the channel used for most communications in GTNP.
Bridger-Teton National Forest

N Rx:
169.125 /
N Tx: 171.3875
W
Tx: 169.9,
W
Rx: 166.225
Targhee National Forest
169.175
Yellowstone NP
163.1 /
S
165.5875 / 168.35
TCSO Dispatch
155.415
~ Weather ~
NOAA
Jackson Weather Radio
: 162.525
NOAA
Map of Jackson Coverage Area
(PDF)
NOAA
Yellowstone Weather Radio: 162.45
Driggs, Idaho weather radio 162.450
Jackson Hole Area Amateur Radio Club
Teton Amateur Radio Repeater Association
~ Frequency Ranges ~
Aviation
118.000 - 136.975 MHz
Marine
: 156 - 162.025 MHz
Weather
: 162.400 - 162.550 MHz
International Distress
: 406 MHz
The 406 MHz EPIRB was designed to operate with satellites and
has been designated internationally only for distress.
Speaking of the airport....
UNMANNED AIRCRAFT
Launching, landing or operating an
unmanned aircraft, such as a drone, within
Grand Teton National Park is prohibited.
See the
Laws & Policies of GTNP
~~~~~~~~~~~~~~~~~~~~~~~~~~~~~
UPPER EXUM ROUTE PHOTOS
- more will be added as time permits -
The south aspect of the Grand Teton
The UXM is best
free-soloed
by climbers with experience free-soloing similar routes but that's not to say that everyone needs to fall into that category. When dry, variations can lower the Upper Exum's rating from 5.5 to that of the Owen-Spalding's 5.4 rating; however, it's not the recommended route for mountaineers who want the easiest route under good conditions.
Exum Ridge as seen from Lower Saddle
You can take any line you wish to reach the Friction Pitch.
The Jern Dihedral is the most common way to reach the start of the Friction Pitch. The Jern is the JLCR's moniker for the crack after climbing guide Ken Jern slipped on ice and fell 50ft down its face. You can watch Ken point out the location in this
great soloing video
. Most climbers use the Jern to access the Friction Pitch but options abound. You can bypass the Jern and the Friction Pitch (FP) via the Western Chimney, the FP Bypass, and the PNG Dihedral. The book
A Climbers Guide to the Teton Range
rated the Puff-n-Grunt (PNG) at 5.6 to 5.7; however, to us, it mostly feels like a 5.4 with two very short cruxes that only feel like a 5.6 if you're climbing in non-climbing shoes as we often do. Your rating may vary. The FPB is more of a low 5.X scramble but it can throw you a loop near the top if you pick the 'wrong' line to exit. It has some loose rock, too.
Overview of approach to the Friction Pitch
View from the base of Friction Pitch.
Climbing guides often advise climbers to climb to the two knobs just above the belay ledge and then move slightly right to a shallow grove to get past the Friction Pitch's short crux. You may decide that's not for you. Tall climbers with a long reach and sticky climbing shoes will have the most options. If you're on a rope, it really doesn't matter which way you go unless you're on the crestline. If you take a fall toward the east - off the crestline - you will pendulum swing into the Puff-n-Grunt Dihedral.
Looking down the Friction Pitch from just above its crux.
Close up of the crux of the Friction Pitch from the small ledge at its termination.
There has been a piton stuck in the rock on the west side of the ledge for many many years.
Friction Pitch and variations.


Access to the Jern can be made in several ways: Left-facing Corner, Western Chimney, Boulder Pitch near the crest, etc. You can bypass the Jern by heading up the Western Chimney if the Jern is backed up with slow-moving climbers. The exit to the belay ledge at the base of the Friction Pitch is at an 'obvious' opening. You might find an old cam stuck in the rock at this location. That exit might be more difficult than the Jern for some climbers. Other exits from the Western Chimney are possible. Some exits look easy until you're fully committed and then you realize they aren't that easy. Of course, you could also try the eastern crest of the ridge if you are comfortable doing so. The full eastern crest will be harder than the Jern. Our favorite bypass is to climb along the western crest of the Jern Dihedral - along the top of the Jern's western side. That variation is not marked in the above image but it's where the words 'Jern Dihedral' are. We access it from the base of the Western Chimney but you can access it from an eastern approach. Choose any line that you can comfortably climb. They are all fun.
~~~~~~~~~~~~~~~~~~~~
Why free-solo the Upper Exum or Owen-Spalding climbing routes?
You can sleep in. You climb on any day
you
want. You (well, not everyone) can easily make a round-trip in single day. You can go at your own pace and enjoy some solitude. You can travel further and stay stronger when you're carrying less weight. You can easily move past other climbers. You can focus on the rock and not on the mechanics of roped climbing. You can skip the expensive camping permit. You can skip the expensive gear. You can skip the expensive guide. There's a freedom that you can't get from being tied to the mountain or other climbers. It's a far more enjoyable experience for many. Older, injured, or physically weaker climbers may not be able to carry gear or travel on time-lengthy trips. You may not have the time for multi-day climbing activities. You might recover more quickly. You can have the summit to yourself (sometimes).
Free-soloing has its inherent dangers as does any activity but it's relativity safe if you're climbing within your comfort zone and taking obvious precautions like avoiding bad weather, terrain traps, and poor conditions. The best investment you can make if you wish to solo these routes and don't mind spending some money will be a nice pair of climbing shoes - probably
approach shoes
. We solo the UXM & OS in just about any type of outdoor shoe but a good pair of sticky climbing shoes will boost your confidence & safety on the rock.
Being prepared for the unexpected means having a Plan B. Sometimes Plan B is a rope (and
helmet
) and a lead climber. A foothold might suddenly give way. Wind may knock you off balance. Verglas might be mistaken for dry rock. Rockfall may hit you. A handhold might come loose. You might lose you focus. You might even have a medical emergency while climbing.
Ropes can compensate for the natural ability of humans to make mistakes, and for nature's ability to sabotage our safety. They don't guarantee your safety, of course, but there's a good reason that the world's most talented climbers, & least talented, use ropes. Besides safety, the best reason for using a rope is that you're more likely to really test & improve your climbing skills with the safety that a rope affords. Ropes can also get you past tricky situations in a hurry.
There aren't too many circumstances where free-soloing the Grand Teton is safer than roping up but one situation can arise when you need to escape the mountain while under the threat of incoming storms. Roped climbers can easily take double the time it takes a free-soloing climber to cover the same dry terrain. Aggressive free-soloing climbers can get from the Grand Teton's summit to the Upper Saddle in under 12 minutes when the route is dry. Rumor has it that the summit to the
Lower Saddle
was once done in 12 minutes (very hard to believe) by Rolando Garibotti who holds the FKT for the Grand Traverse. I'm not sure that his feet touched the ground at that speed but that remarkable time was once reported in the now defunct
outerlocal.com
website as true.
Climbing by yourself used to be illegal in GTNP. In the 1930's, when
Paul Petzoldt
was running the first guiding concession in Grand Teton National Park ($8/day in 1937), climbing alone was prohibited. By the way,
accounting for inflation
, that $8 a day for a guided climb in 1937 would cost about $132 today. Nowadays, GTNP's current climbing concessionaires provide a fine, although upper-class-expensive, introduction to climbing in the Tetons.
~~~~~~~~~~~~~~~~~~~~
A complete collection of marked up route photos will be posted over time for permanent future reference but the blog is not publishing new posts.
Enjoy Safe Climbing